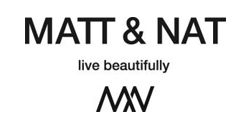 De oprichter van MATT & NAT heet Inder Bedi. Deze Indiase man woonde in Montreal en probeerde voor een maand te leven als veganist. Hij realiseerde zich toen hoe beperkt de levensstijl was voor de veganisten. Het veganist zijn was toen namelijk nog geen trend! Toen is hij zelf begonnen met het produceren van diervriendelijke en milieuvriendelijke tassen en schoenen. Hij noemde het MATT(ERIAL) and NAT(URE) oftewel: Matt & Nat. In 2001 begon hij samen te werken met Manny Kohli. Beide mannen waren afkomstig uit India, waar koeien heilig zijn. Hierdoor voelde het heel natuurlijk om een veganistisch merk te lanceren. Ze wilden laten zien dat mode zonder wreedheid ook chic en stijlvol kan zijn.
Live beautifully
Matt & Nat werkt niet met leer, bont, wol, zijde of andere dierlijke ingrediënten. In plaats van dierlijke producten wordt er gebruik gemaakt van materialen van gerecyclede flessen, gerecycled nylon, kurk en rubber van niet dierlijke oorsprong. Voor "vegan leather" wordt ook gebruik gemaakt van PU en PVC, waarvan PU afbreekbaar is en dus minder schadelijk voor het milieu. De tassen en accessoires van Matt & Nat zijn duurzaam, omdat ze jarenlang meegaan. Vegan leather is niet van echt leer te onderscheiden en gaat net als echt leer leven en soepel worden.
21 Bottles
De stiksels van de tassen worden gemaakt van gerecyclede flessen, wel 21 flessen per tas of schoen! Ook wordt er gebruik gemaakt van rubber & kurk om tassen en schoenen mee te maken. Inmiddels kunnen ze met trots vertellen dat ze al meer dan 3 miljoen plastic flessen hebben gerecycled!
Fair Forward
Behalve dat ze zo duurzaam mogelijk produceren, hebben ze ook hun eigen fabriek in China waar fair wordt gewerkt. Omdat het hun eigen fabriek is kunnen ze goed toezicht houden op de werkomstandigheden.
FLINKE KORTING OP DE LAATSTE TASSEN VAN MATT & NAT!